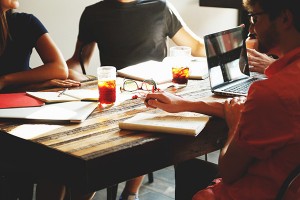 Collaborative Divorce is based on a progressive mediation model for cooperatively working through a divorce. Many families choose this path, which prioritizes children's interests, promotes a working relationship with your spouse (now and in the future), and may help you maintain your sanity and your assets in the long term. If you have questions about this approach, please call the office. In the collaborative process, parties meet together with their lawyers to share family and financial information, to develop goals, and to brainstorm on solutions that work for the family. The process often also involves experts from various fields to assist with the process. For example, one financial professional can be hired to help both parents with child and spousal support, and equitable distribution of assets and debts. A mental health professional who has expertise with children can be a useful addition to the team in helping children work through the divorce process. When mental health professionals act as communications coaches for Mom and Dad, they can help ease the tension of separation and divorce and often facilitate a better outcome for everyone involved.
Learn more by reading our Collaborate Law FAQs.
If you have questions about collaborative divorce or the divorce mediation process, we encourage you to call our office at (804) 321-5100.